[vc_row][vc_column][vc_video link="https://www.youtube.com/watch?v=P25v–BKEXQ" title="Explore the All-New Apple Music"][/vc_column][/vc_row][vc_row][vc_column][vc_column_text]
APPLE MUSIC EMBEDDABLE WEB PLAYER WIDGET NOW LETS USERS LOG IN AND LISTEN TO FULL SONGS IN THE BROWSER
The Apple Music service has always provided an online tool to generate widgets, that can be used by artists to promote their music on their own websites and blogs. Now Apple has updated its Apple Music tools website with a new interface that allows subscribers to sign in and play full songs, albums, and playlists within embeddable widgets, leading to speculation that the company could be about to introduce an Apple Music web client.

Apple has been hosting the tools URL to let artists download Apple Music badges and generate embeddable widgets for promotional use on their own websites and blogs.
Previously it was only possible to play 30-90 second sample tracks in widgets. However, a Reddit user discovered that after logging in with their Apple Music credentials using a sign in button, they were able to search for and listen to full songs, albums, and playlists through the site, as well as add songs directly to their Apple Music library without being kicked out to another app.
This change has led to some speculation that Apple is readying a full online Apple Music client, where users could log in to applemusic.com, for example, and access the same library as the Music app on iOS.
Here's an example of the new widget, embedded into this blog post:
Music app on iOS.
Here's an example of the new widget, embedded into this blog post:
If you press the 'Sign In' button in the top right corner, you can log in to Apple Music with your account name and password. (This seems to work best from a Mac machine right now, iOS prefers deep-linking to the native app.)
Logging in upgrades the widget to allow playback of full songs and albums. You can press the ••• button and add the playlist to your library directly, all from the browser without opening a native app.
While it's still not possible to browse your library, create playlists or see what friends are playing on the site, the change does suggest Apple could be preparing a full-fat Apple Music web client to compete with existing offerings from the likes of Spotify.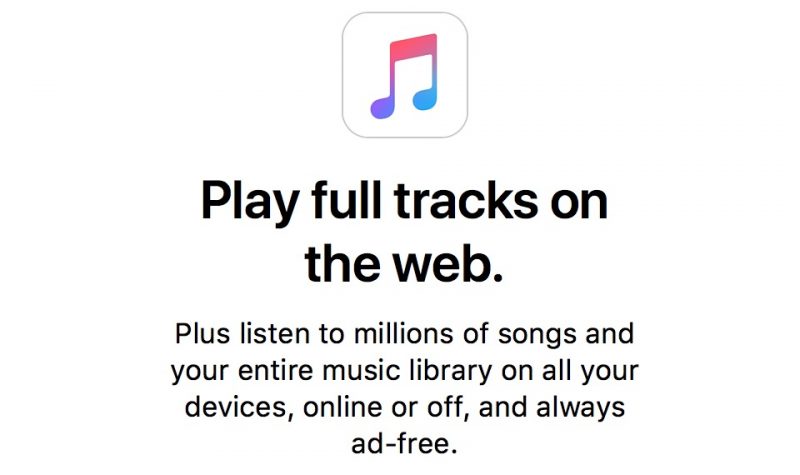 The widget features pause/play, progress scrubber and next track controls, so it's already a significant step towards Apple providing a full music experience in the browser. They'd need to add things like a browsable library and For You tabs to match the native iTunes and Music app offerings.  However, there is no evidence that Apple actually plans to do this.
Clearly, they have the infrastructure for web-based Apple Music playback available … but there aren't any obvious signs that this codebase is intended to expand beyond embeddable widgets at this time.
[/vc_column_text][/vc_column][/vc_row]