Event Details
HopMonk Tavern Sebastopol; celebration of beer, food, music and people. Voted Sonoma County's Best Music Venue!

Dining Reservations Here! / Event Details Below!
Westwayz Entertainment Presents
Brotha Lynch Hung:
ABOUT:
A versatile producer as well as an excellent solo rapper in his own right, Brotha Lynch Hung was born Kevin Mann in Sacramento, California. He hooked up with Master P for a 1993 EP named 24 Deep, but then went out on his own for his debut solo album, 1995's Season of da Siccness. Mann worked on production for Master P's I'm Bout It, E-40's Southwest Riders, and Mr. Serv-On's Life Insurance before turning back to his own career. Given a big push by Master P's breakout success in the middle of 1997, Brotha Lynch Hung's sophomore album, Loaded, followed in 1997. EBK4 followed in 2000 and both Blocc Movement and Virus appeared the next summer. The year 2002 was less busy, with Appearances: Book 1 being released in the spring and the Plague DVD following it that summer. His 2010 release Dinner and a Movie found him on Tech N9ne's label, Strange Music. The concept album was followed by another, Coathanga Strangla, in 2011. Both efforts focused on the life of a serial killer.
9pm
$22 ADVANCE | $25 DAY OF SHOW
<...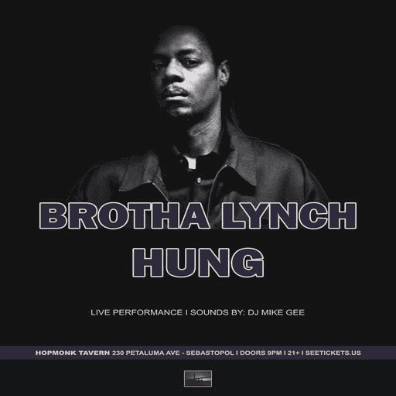 No Podcast/Radio Added Yet 😢
This event's contact form is not available for non members or logged out visitors. To access this event's direct message form to send an email Inquiry, simply log in or create an account.
Single Schedule Event
Rap Show
Common A/Es:
Accepts Credit Cards
|
Alcohol Served
|
Ample Parking
|
Bike Parking
|
Free Parking
|
Free Wi-Fi
|
Handicap Parking
|
Identification Required
|
Live DJ
|
Live Music
|
Live Performers
|
Paid Event
|
Photography & Video Allowed (OK To REC.)
|
Security
|
Smoking Section(s)
|
Street Parking
|
V.I.P. Service
|
Wheelchair Access
|
420 Friendly
|
Medium Setting
|
Medium Occupancy
|
Accepts Cash App
|
Accepts Pay Pal
|
Accepts Other Payment Apps
|
Accepts Other Payment Methods
Specific A/Es:
420 Friendly
|
A&R Opportunities
|
Accepting Donations
|
Accepting Sponsors
|
Alcohol
|
Announcements
|
Autograph Signing
|
Beer Available
|
Booking Agent Available
|
Bottle Service
|
Brand Models
|
Dance Floor
|
Device Inputs Available (Aux, USB, etc.)
|
Door Greeter
|
Entertainers
|
Event Host
|
Event Security
|
Food Service
|
Full Bar
|
Games
|
Headliner
|
Headliner Event
|
Hip Hop
|
Hotels Nearby
|
Indoor Bathrooms
|
Limited Seating
|
Live DJ
|
Live Performances
|
Mainstream Headliner
|
Meet n Greet
|
Motels Nearby
|
No Gang Affiliation Allowed
|
No Weapons Allowed
|
Non-Smoking Areas
|
Open Bar
|
Open To The Public
|
Outside Section
|
Outside Smoking Areas
|
Pat Down Search Entrance
|
Peaceful Event
|
Photography Allowed
|
Quality Equipment
|
Rap Legend Headliner
|
Recorded Live
|
Resources
|
Safe Neighborhood
|
Sound Engineer
|
Sound Guy
|
Sponsor Booths
|
Sponsored Event
|
Talent Scouting
Find hotels and vacation rentals near Brotha Lynch Hung at HopMonk Sebastopol