KinerkTube Supporter Coolio da Unda Dogg
"SHOUT-OUT to KinerkTube.com for rockin with me at my shows and providing a dope online platform for the people of the industry"
Da'unda'dogg (born Troy Deon Reddick) is an American recording artist, producer and CEO of Cavvy R. Records. In addition he owns Da'unda'dogg clothing company and was once Co-CEO of Thizz Entertainment.
Born and raised in the Watts area of Los Angeles, California and venturing to the Country Club Crest in Vallejo, California at the age of 15, Da'unda'dogg has been a major figure on the underground west-coast music scene since the mid 80's. Gaining national recognition after being featured on the single "California Livin", in 1990 with Mac Dre.

Also known as Coolio or Coolio-Da'unda'dogg,(Not to be confused with the other Coolio), he has released 10 solo albums to date and has a catalog of over 30 releases by his label. He has produced songs for or worked with artist such as Mac Dre, Dubee, Mac Mall, Spice 1, Kid Frost, Baby Bash, San Quinn, Brotha Lynch Hung, N2Deep, Gonzoe, Yukmouth and J-Diggs, all of which who have or has had major label exposure.
Early years
Originally from the Watts, area of Los Angeles, Da'unda'dogg was abandoned by his father Eddie Reddick Jr. at birth. His father was a member of the Los Angeles based R&B group, The L.A. Boppers,[1] also known as Side effect. The second oldest of six siblings, Da'unda'dogg got involved in drugs and gangs early on. While he was attending Jordan High School in Los Angeles his mother decided it would be best for the family to relocate to Vallejo in the Bay Area. There he attended Peoples High School in which he dropped out in the 11th Grade due to his high involvement in illegal street activity. He became known to law officials as a member or affiliate of the Grape Street Crips and of the Romper Room Crew, which police dubbed as the Romper Room Gang.[2] In 1992, Da'unda'dogg was indicted on federal charges for armed bank robbery and eventually sentenced to 5 years in prison. Landing him and his crew on a List of famous bank robbers and robberies. While incarcerated Da'unda'dogg earned his high school diploma and attended college classes offered through Southwest Baptist University in Missouri. He was released from Leavenworth Penitentiary in late 1996 and began to spark back his music career.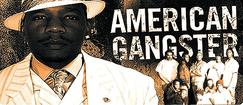 More recently, BET featured Da'unda'dogg along with the Romper Room Crew on an episode of its popular television reality series American Gangster,[3] which aired Jan. 15th,2009.