Event Details
world / reggae / roots
SARITAH:
Conscious roots songstress Saritah (sa-REE-ta) is on a worldwide musical mission to uplift, inspire and heal. Bursting with an organic sound that is a refreshing and uniquely feminine weave of reggae, soul, and acoustic inspired flavours, Saritah has a relentless passion for inspiring people to live their purpose and to follow their dreams.
Playfully powerful, Saritah's live shows are colourful celebrations of life. A festival favourite with her infectious, beaming smile, Saritah has graced the stages of some of the world's most renowned musical gatherings. Born in Seoul, South Korea, the country of her mother's heritage, Saritah grew up by the Indian Ocean in the most isolated city in the world – Perth, Australia. A traveller from the time she was a few months old, however, she has always had a global perspective and has been exposed to and influenced by a diversity of music and culture from around the world.
Choosing a positive, earth-conscious, vegan lifestyle, Saritah is inspired both by the majesty of the planet we live on and the overwhelming realities that face us on a day-to-day basis. Vulnerably aware that this modern life can be overwhelming at best, her songs are celebrations, revelations, invocations, affirmations. Equally at home fronting a full band on the big stage with an...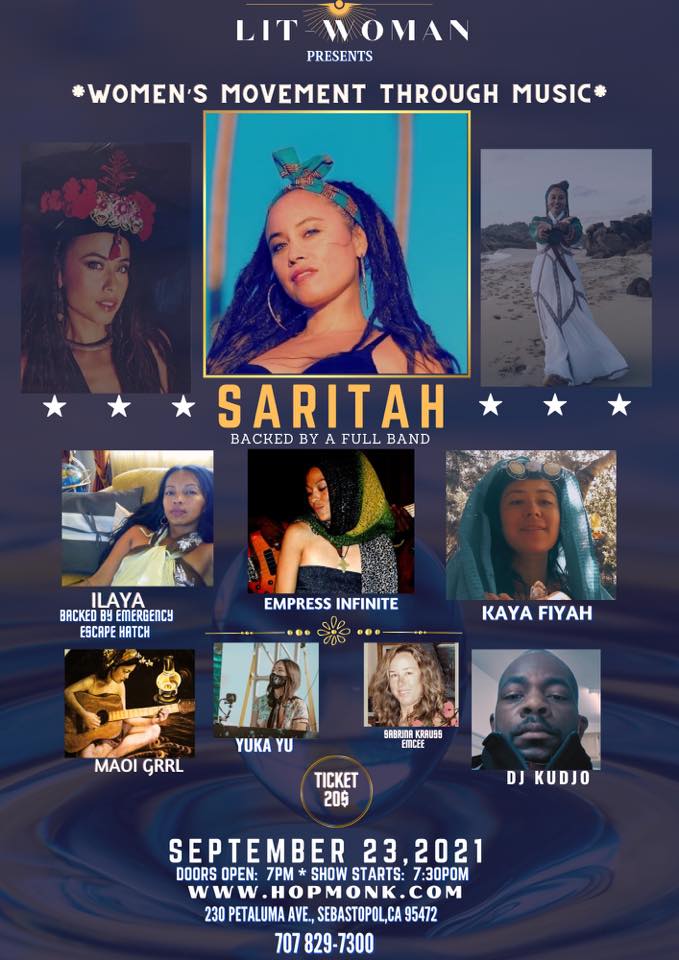 No Podcast/Radio Added Yet 😢
This event's contact form is not available for non members or logged out visitors. To access this event's direct message form to send an email Inquiry, simply log in or create an account.
Single Schedule Event
Music Show
Common A/Es:
Accepts Credit Cards
|
Alcohol Served
|
Ample Parking
|
Bike Parking
|
Security
|
Smoking Section(s)
|
Medium Setting
|
Accepts Other Payment Methods
Find hotels and vacation rentals near Women's Movement Through Music Presents Saritah
Verified Sponsor(s)
Artist/Business pages and/or member profiles accepted event Sponsor verification.